ASUHAN KEPERAWATAN KELUARGA DENGAN PENERAPAN DIET DASH DALAM MENURUNKAN TEKANAN DARAH PADA PENDERITA HIPERTENSI DI DESA MONGOLATO
FAMILY NURSING CARE USING THE DIETARY APPROACHES TO STOP FOR HYPERTENSION TO REDUCE BLOOD PRESSURE IN HYPERTENSION PATIENTS IN MOGOLATO VILLAGE
Hardianti Dama

Universitas Muhammadiyah Gorontalo

Andi Nur Aina Sudirman

Universitas Muhammadiyah Gorontalo

Ibrahim Paneo

Universitas Muhammadiyah Gorontalo
Keywords:
Diet DASH (Dietary Approaches to Stop Hypertension), High Blood Pressure, Hypertension
Abstract
Introduction: Hypertension is still a health problem that is big enough to be overcome. The management of hypertension can be done one of them in a non-pharmacological way, namely through the Dietary Approaches to Stop Hypertension (DASH). The research aimed to apply the DASH diet to reduce blood pressure in hypertensive patients in Mongolato Village, Gorontalo District.
Method: The research method used a case study design with a process approach. The samples were 3 residents who had hypertension. Data collection techniques were obtained from interviews and observations using guidebooks and physical examination using vital signs measuring devices such as a sphygmomanometer/sphygmomanometer. The instruments used were daily menu guides (booklets), observation sheets, and standard procedures for administering the DASH diet. The study was conducted for 3 days visit. The DASH diet is given 3 times a day, namely the breakfast menu, lunch menu and dinner menu.
Results: The results showed a decrease in blood pressure as well as several other changes. In subject 1 blood pressure fell from 160/100 to 140/90 mmHg, in subject II blood pressure fell from 150/100 to 140/80 mmHg, and in subject III blood pressure fell from 160/100 to 150/90 mmHg.
Conclusion: The application of the DASH diet to hypertensive patients has proven effective in overcoming hypertension problems, as indicated by changes in systolic and diastolic blood pressure results. This DASH diet therapy can be continued independently when the patient's hypertension reappears, so that it can overcome the problem of nursing high blood pressure patients.
Downloads
Download data is not yet available.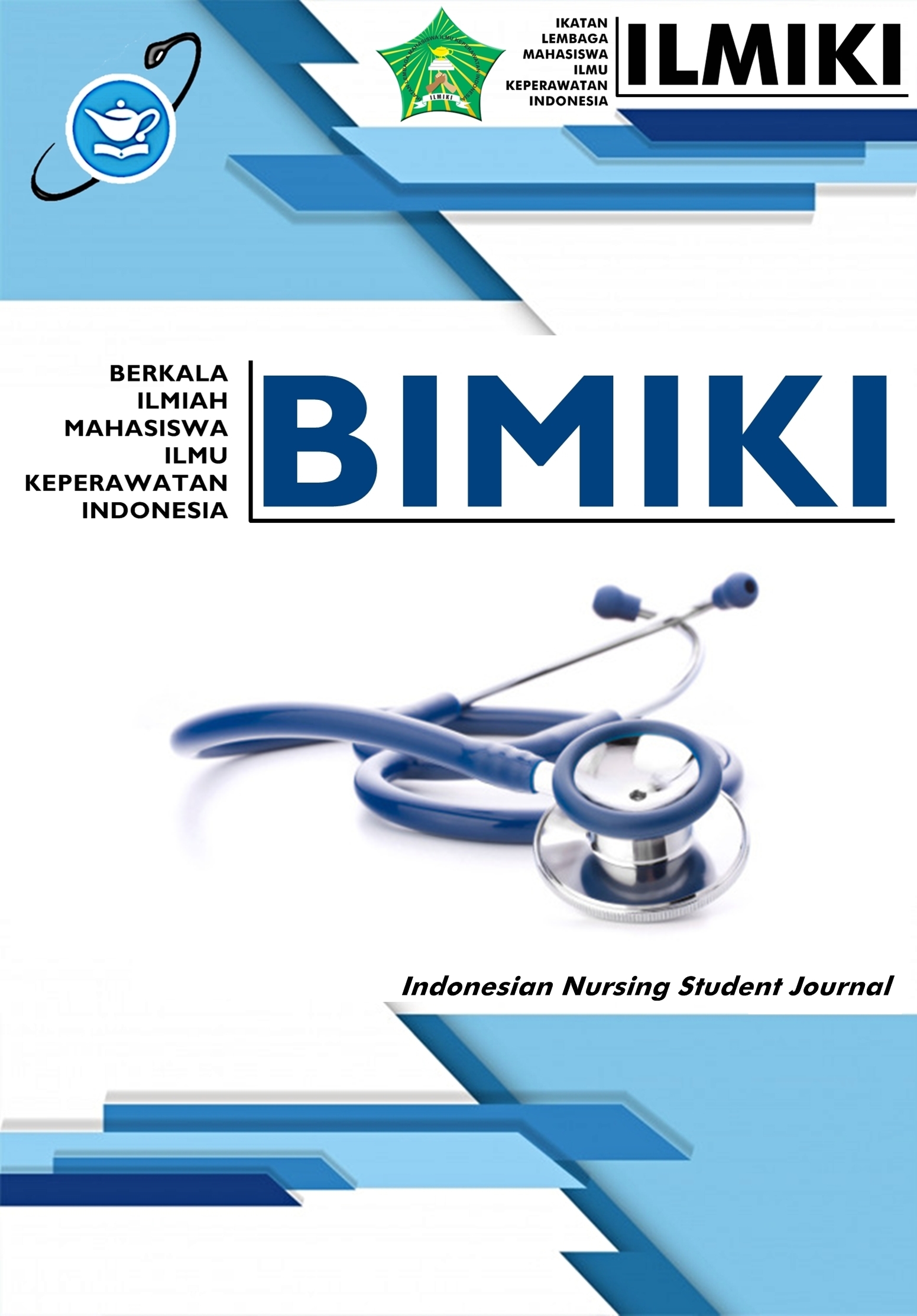 Copyright (c) 2023 BIMIKI (Berkala Ilmiah Mahasiswa Ilmu Keperawatan Indonesia)
This work is licensed under a Creative Commons Attribution-ShareAlike 4.0 International License.