ASUHAN KEPERAWATAN KELUARGA DALAM MENINGKATKAN KEMANDIRIAN KELUARGA DENGAN PENERAPAN HEALTH BELIEF MODEL DI DESA MONGOLATO
FAMILY NURSING CARE IN INCREASING FAMILY INDEPENDENCE WITH THE APPLICATION OF THE HEALTH BELIEF MODEL IN MONGOLATO VILLAGE
Hartati Pulubuhu

Universitas Muhammadiyah Gorontalo

Andi Nur Aina Sudirman

Universitas Muhammadiyah Gorontalo

Ibrahim Paneo

Universitas Muhammadiyah Gorontalo
Keywords:
Blood Sugar Levels, Diabetes Mellitus, Health Belief Model
Abstract
Introduction: Diabetes mellitus is a group of metabolic diseases with blood sugar characteristics exceeding normal values where the patient's body cannot automatically control the level of sugar in the blood.
Methods: The research method uses a case study design with a nursing process approach. The subjects in this study were 3 residents in Mongolato Village who had diabetes mellitus. Data collection techniques were obtained from interviews and observations using booklet guides and checking blood sugar levels. The instruments used are observation sheets, as well as standard therapeutic procedures for providing health belief models. The study was conducted during a 3-day visit.
Results: The results showed a decrease in blood sugar levels. In subject 1 blood sugar levels dropped from 270 mg/dl to 116 mg/dl, in subject 2 blood sugar levels dropped from 314 mg/dl to 118 mg/dl, and in subject 3 blood sugar levels dropped from 250 mg/dl to 114 mg/dl.
Conclusion: Based on the description above, the application of the Health Belief Model using the perceived susceptibility dimension can reduce blood sugar levels in patients with diabetes mellitus as indicated by changes in blood sugar levels. So that the health belief model can be used as one of the therapies to overcome nursing problems in patients with diabetes mellitus.
Downloads
Download data is not yet available.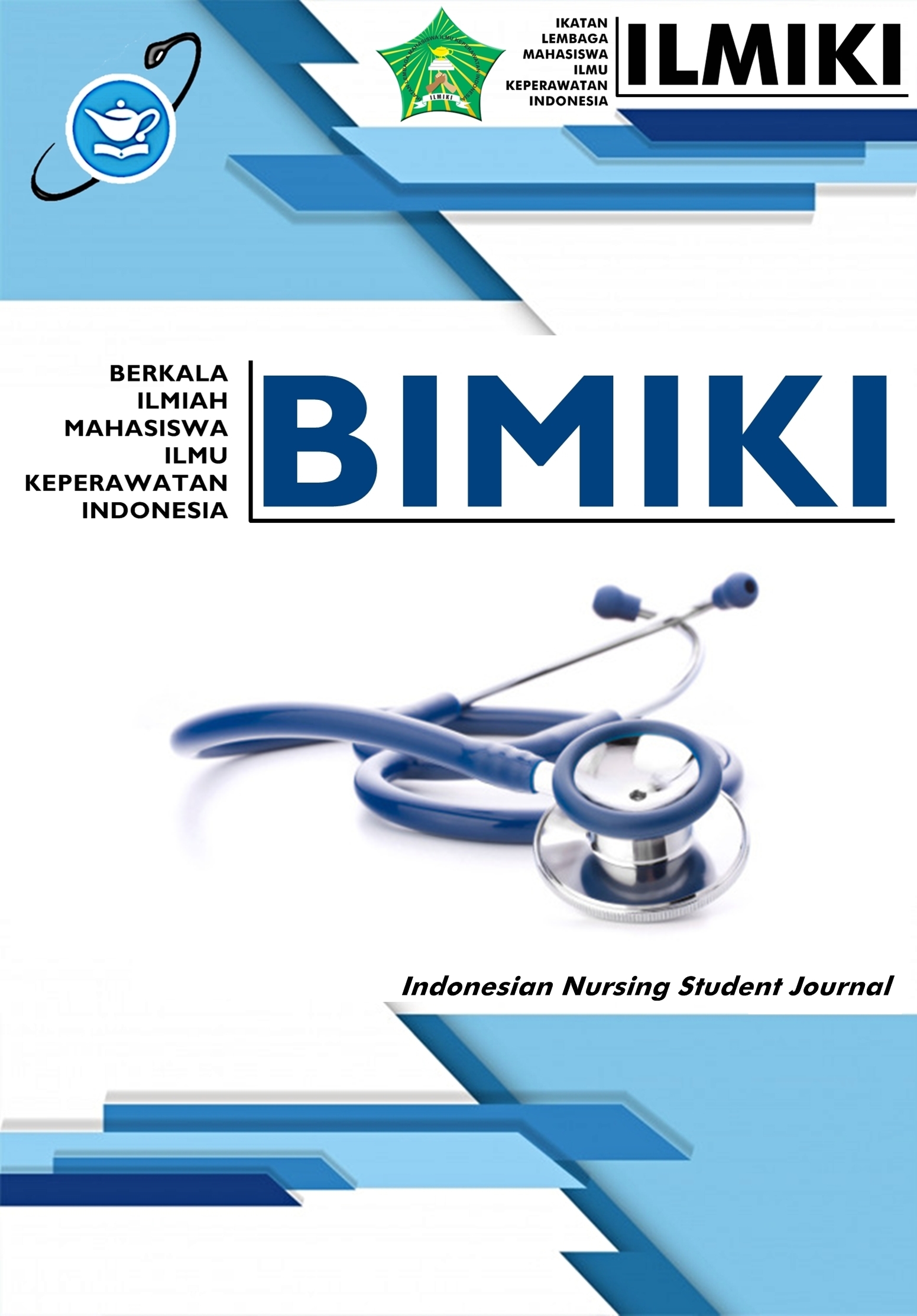 Copyright (c) 2023 BIMIKI (Berkala Ilmiah Mahasiswa Ilmu Keperawatan Indonesia)
This work is licensed under a Creative Commons Attribution-ShareAlike 4.0 International License.